In 1951 at the Conference of Grand Masters it was voted to adopt the Order of the Knights of Pythagoras as its official youth organization. One of the reasons for implementing this program was to establish a universal brotherhood for the young men of this organization. With this meaning, the youth would have the opportunity to experience the friendship not only within but outside of their jurisdiction.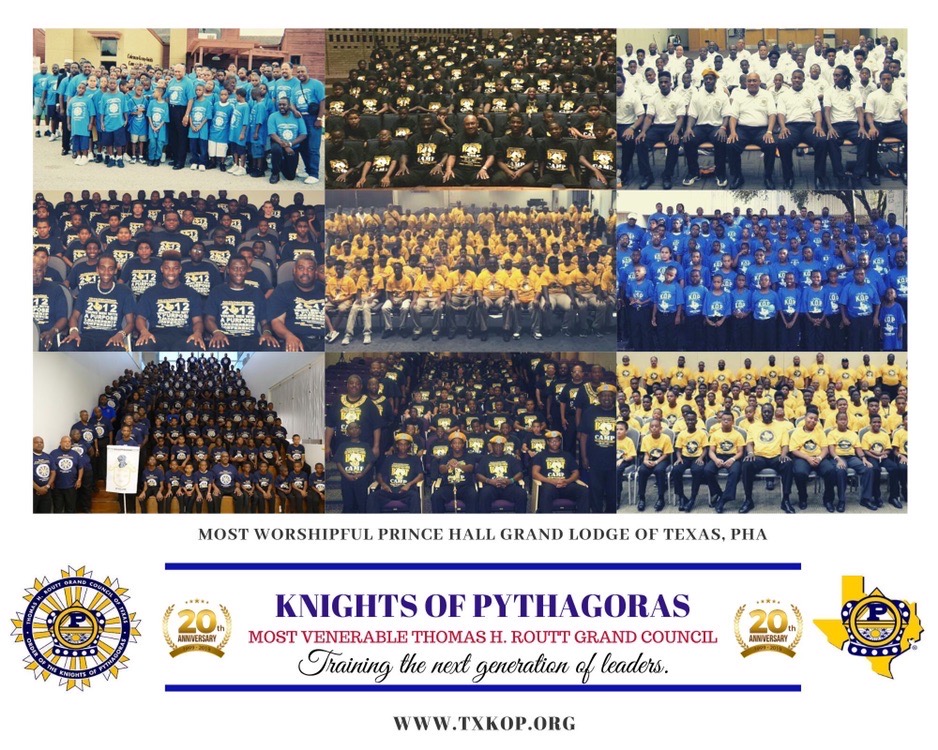 The Most Venerable Thomas H. Routt Grand Council, Order of the Knights of Pythagoras is sponsored by the Prince Hall Grand Lodge of Texas. They are the key piece of a partnership between the Master Masons of the Prince Hall Grand Lodge Texas, the youth, and their parents in the communities where we have lodges. The Texas KOP promotes family values, community service, and also continuously provides training for our Youth Knight's as they become the future leaders of tomorrow.



These are the current announcements from Michael L. Simms, Sr., State Director – KOP:


We are grateful for Lamar University working with us to plan for our 2020 S.T.E.A.M. (Science Technology Engineering Arts Mathematics) Camp for Young Leaders, Leadership Conference scheduled for July 23 – 26, 2020. Unfortunately, due to the recent outbreak and safety measures in connection with the Coronavirus (COVID-19) Pandemic, we have suspended all youth activities and canceling our youth leadership conference. Historically, this is the first time in the history of our program (twenty-one years) we have ever canceled our summer youth conference.